Others
Sony Xperia 5 Pros & Cons – Things You Need To Know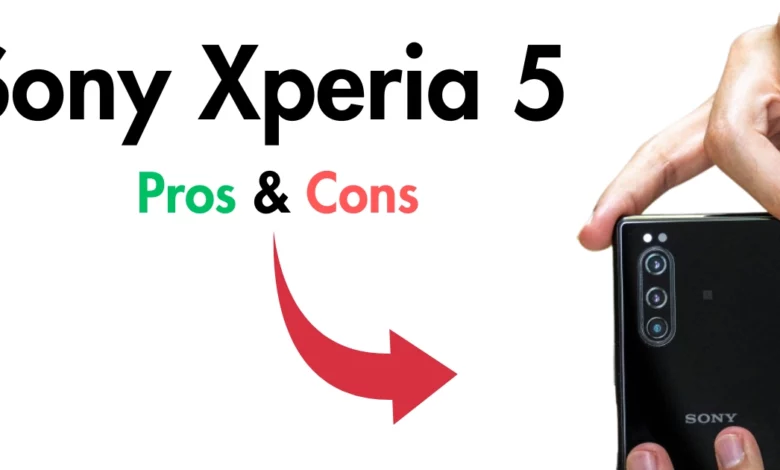 In the world of smartphones, Sony has always been a brand synonymous with innovation and quality. Sony Xperia 5 continues this legacy by offering a unique blend of cutting-edge technology, stunning design, and a cinematic experience in the palm of your hand.
In this comprehensive review, we delve into the pros and cons of the Sony Xperia 5, dissecting its features and performance to help you make an informed decision.
Sony Xperia 5 Pros or Advantages
Display and Design: It boasts an OLED display that's a feast for the eyes. With HDR support, it delivers rich, vibrant colors and deep blacks, making multimedia consumption a joy.
The 21:9 aspect ratio not only lends a cinematic feel but also enhances multitasking by accommodating more content on the screen. The phone's compact and ergonomic design ensures a comfortable grip, while its slim profile makes it easy to slip into pockets.
Camera Performance
Xperia 5's camera setup is a standout feature. It has a triple-lens system, it captures stunning photos with impressive detail. The advanced photography features, including Eye Autofocus (AF) and Pro Mode, empower users to take control of their shots. It can record 4K videos with stabilization ensuring your memories are captured in professional-grade quality.
Performance and Hardware
This mobile has a powerful Snapdragon processor that delivers smooth performance, whether you're multitasking or gaming. Backed by ample RAM, the phone effortlessly handles demanding tasks without slowdowns.
Furthermore, the inclusion of expandable storage via a microSD card means you won't have to worry about running out of space for your multimedia and files.
Audio Features
Sony's commitment to audio excellence is evident in the Xperia 5. With Hi-Res Audio support and stereo speakers, the phone delivers immersive sound quality that brings your content to life.
The inclusion of a 3.5mm headphone jack is a nod to audiophiles, while support for LDAC and Dolby Atmos enhances the audio experience even further.
Software and User Interface
Xperia 5 runs on the Android operating system with Sony's UI enhancements. While some may prefer stock Android, Sony's UI offers unique features such as Side Sense, a feature that provides quick access to frequently used apps. The phone's customization options and themes allow you to tailor the user experience to your preferences, adding a touch of personalization.
Battery Life and Charging
While not the longest-lasting battery on the market, the Xperia 5's battery life is pretty decent, offering enough juice to last through a day of moderate usage. The phone supports fast charging, so you can quickly top up your battery when needed. Sony's battery care features help extend the lifespan of your battery by optimizing charging patterns.
Sony Xperia 5 Cons or Disadvantages
Now I'm going to talk about the disappointing things about this mobile which you need to know before making any buying decision. So stay connected with me
Display and Design
While the 21:9 aspect ratio is ideal for cinematic content, it might not suit all types of apps and media. Some apps and videos may not take full advantage of the elongated display, resulting in black bars at the sides. The limited color options might disappoint users seeking more variety.
Camera Performance
Though the Xperia 5's camera performance is impressive, the camera software could benefit from improvements. Some users may find certain features less intuitive or require a learning curve to fully utilize.
While the camera excels in well-lit conditions, night photography could be further refined to produce clearer low-light shots.
Performance and Hardware
While the Snapdragon processor in the Xperia 5 is powerful and capable, it's worth noting that it's not the latest iteration available. Some users might have expected the latest flagship processor for the price point. While expandable storage is a boon, the limited availability of higher storage configurations might be a downside for users with larger media libraries.
Audio Features
While the audio quality of the Xperia 5 is commendable, it might not match up to dedicated audiophile devices. Audiophiles seeking the utmost audio perfection might find the experience slightly lacking. Additionally, the absence of front-facing stereo speakers might disappoint users who prioritize immersive sound quality in their multimedia consumption.
Software and User Interface
Sony's UI enhancements, while offering unique features, might not be everyone's cup of tea. Some users prefer a more minimalistic or stock Android experience, and Sony's UI might feel a bit heavy to them.
Connectivity
Xperia 5 offers 5G connectivity, but the availability might vary depending on the region. This limitation could be disappointing for users who are in areas with limited 5G coverage. The use of a USB-C port might not be compatible with older accessories that use different connector types, potentially inconveniencing some users.
Hope you have found all the things which are good and bad about this mobile so make sure to keep all these things in your mind then make a buying decision.